The Kitchen - Victoria Zeilenga
---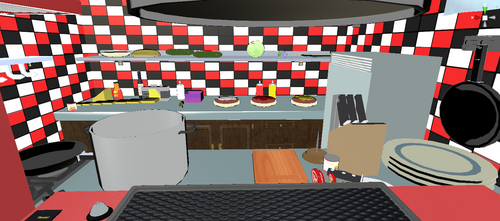 Running a little behind on updates but we will have more soon! For today we're going to be talking about the art of the Kitchen in Hell Yeah and the process behind that. For this we had Victoria from the art team answer some questions.
First off, who are you?
Hi, my name is Victoria Zeilenga and I'm the lead artist for Hell Yeah Burgers!

When the team was discussing the choice of art style, what made you all settle on the style Hell Yeah Burgers ended up with?
When deciding on the art style for Hell Yeah me and the other artists initially looked at other popular cooking games such as Job Simulator and Cooking Mama to try to decide on what kind of look or blend of looks we wanted to go for. Before one of our weekly meetings we were all talking about how we were excited for the new Pokemon game Pokemon Sword and Shield, that day we decided that we would make that our main source of inspiration for Hell Yeah! Now the art style is shifting slightly from that into something a bit more stylized and hand painted, but those games remain our biggest style reference.
What has been your process for creating the game assets?
When creating the assets for the game I started with the bare minimum, counters an oven, and fridge. I wanted all of the kitchen tools and appliances to look functional while also exaggerating most of the shapes and sizes to fit the cartoonish art style we were going for.
What updates to the game are you most excited about and why?
I'm excited for the future of Hell Yeah Burgers, me and the team have so many awesome ideas of things to put in the game and make the gameplay super fun! Personally I'm the most excited to add more foods to the game like french fries or onion rings.
Where can we see more of your art?
You can find more of my art on twitter artstation and instagram @v_zeilenga , you can find Maddy Smith on artstation @maddogyz and Alex Gallanis @alexgallanis .
And that's it for this update! Next week, we're going to talk about some of the new features we'll be adding. Keep an eye out for that, and thanks for reading!
-Zoey Reyes
Get Hell Yeah, Burgers! VR